Of course, the best tip I should give you is, to just quit smoking, simply never light another cigaret or tabacco cigaret and that's it...
Unfortunately I know from experience that this doesn't work for everyone just like that.

Yes, I have thought this myself and in fact, I have tried several times already ending up smoking again after all.
In Spring 2011, I really wanted to quit and invested quite some amount in nicotine plasters for 3 months.. just as some help against the "withdrawal problems" as I was the one who wanted to quit, but didn't want to bother my family and friends with the moodswings I would possibly get.
Since I really wanted to quit, I found that those plasters did "work"; They really enlightened the tough parts of the withdrawal and to satisfy my fingers, I used sticks liquorice (in Dutch we call it "zoethout" which is such as a wood like stick with liquorice taste)
It was quite a success, I have walked the Four Days Marches in Nijmegen that year, armed with the "zoethout" and peppermint, and than Fall came.

Due to silly reasons in October that year, I built myself a tabacco cigaret, which actually tasted bad but, soon I built a 2nd and a 3rd was smoked also and, as many of you may recognize, I soon was a heavy smoker again.
By than, I convinced myself it was much easier to quit in Springtime than in Fall because, in nice weather it was easier to go out for a strawl; the excuse was born and by now, it has been October again.

In the first 7 months of 2012, I have suffered a tough injury which kept me from training for, let alone walk the Four Days Marches again and therefore, I also was less motivated to quit smoking.

My brother had told me by occasion and sent e-mails about his experience with the V2 he used (type KR808-D1) which appeared to be an E-cig that uses pre-filled cartomizers and was quite enthousiastic about it, but one way or another, I think I wasn't ready yet... most info was heard but remained unused...
Untill last week. He offered me that I would try one of his spare ones and last Monday... I was ready.

While having a cop of coffee, he showed me a lot of what he had gathered by now and told me lots about his experiences again and admitted he had been a bit surprised by his own experiences.
But somehow, you think this is such moment of enthousiasm... but than again I realized he was not smoking anymore since over 7 months... and, even though he didn't smoke as much as I did, we both think he too was a stubborn smoker who simply didn't get to quitting.

The first e-cigaret I laid my hands on was "Cherry" as a filter (the cartridge) and open-minded I took a puff... A weird sensation made me smile; I felt "smoke" enter my mouth but "tasted" a cherry liquorice... weird but in no way disgusting.
My brother uses the 18mg cartridges and gave me a few in other flavours of which I could take a few home as I wasn't too fond about the cherry but occasionally a few puffs.
After that 1st trial.. he offered me a "coffee" cartridge screwed onto my cigaret (the battery) and that one really did it for me ! This is what I want to try !
That coffee was really nice and in fact, I here saw myself hit two birds with one stone: still "smoke" while tasing coffee ;)

Two days later, I ordered my first small starting-kit that held 2 cigarets (the batteries) with an USB charger and Europian power plug, a little carry case and 3 boxes with 5 cartridges each (of course I choose 3 different flavours) and I also ordered a trial box with 10 different flavours in 12mg from the supplier in the UK from the flavours I already had tasted in 18mg from my brother... Even though I smoked a lot more than him, I thought the 18mg was too heavy for me as I felt it cross my tongue and throat a bit too much so I wanted to try the 12mg.
This kit was sent pretty fast so after 5 days (including the weekend) I was able to start my own experiments.

Since I already seemed to have been convinced that this now could just be it for me, I also had ordered another VERY complete kit from a V2 retailer site in the UK on October 30 so I would be able to give my brother his hardware back he had offered me to try.
This package was, MUCH to my surprise, delivered today, on November 2... That was in 3 days from the UK (to the Netherlands) without extra costs.
You see, this retailer offers to send throughout the UK and Europe free from p&p as of orders of £ 75.-
Since I ordered this very complete "New V2 Cigs Ultimate Starter Kit", I applied for this free p&p which to me is a pretty nice service.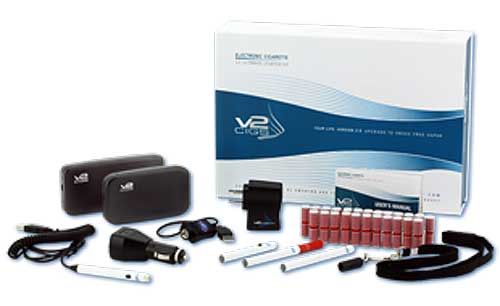 Contents of the starterkit "NEW" that I choose:

• 3 x V2 Cigs Batteries (any combinations of V2 manual and automatic batteries and in the colour you like)
• 25 x V2 Cartridges (5 x 5 packs of cartridges of your choice)
• 1 x NEW Smart Charger
• 1 x Wall Adapter
• 1 x NEW 2 Amp Car Travel Adapter
• 1 x NEW Personal Charging Case XL (PCCXL)
• 1 x NEW V2 Metal Carry Case (Silver, Black or White)
• 1 x V2 Power Cig
• 1 x NEW Lanyard
• User Manual

This more than complete kit is the reason for this page because, only 1 week after my 1st experience with the E-cig from V2, much to my surprise, I have been able to almost smoke no more real tabacco cigs (also called A-cigs/tabacco) ; 2 days ago I had 5 over the day, yesterday 3 and today I just smoked 2.
To be honest, almost all were smoked to "taste" the difference in nicotine and flavour and a tiny little bit for missing the "building" of my cigaret.
And actually, they didn't taste nice anymore so, by now... I, from almost a 24/7 smoker now seem to have been transformed to a "vaper" within a week !!
I really never dared to think that I could pass the bad cigarettes so easily.

My goal is as of November 10, 2012 (written in Dutch as 10-11-12) be completely free from A-cigs and only vape the E-cigs..
And believe me, I smoked at least 3 packs (40 grams) of tabacco a week !!
For now, I calculated that the investment I made, including the supply of 50 cartridges equals some 10 weeks of tabacco and since the first week after my 1st experience using the V2 almost is over already, I dare to believe that this investment will be "earned back" ... Specially if I don't calculate the cartridges but consider them as a dayly spending of approx € 1,15 each which is way better than 1 pack of tabacco in barely 2 days.
By now, I also learned that there are several forums and that "Vaping" really is serious hobby business to many, like how to create and mix their own flavours.

The "vaping" as it's called, is because all you breath in, is the (battery heated) water vapor with a flavour and some nicotine. (There also are zero nicotine cartridges available) So, the bad stuff such as tar and monoxide and many other bad ingredients are not entering your system.

Also, your friends and family around you no longer are bothered with your smoking because there is no smoke... It does look like smoke though, so you better be prepaired for a few negative responses first... They will be surprised though if they, depending on the flavour you use, might smell something sweet when they're close to you.
Of course I'm not saying that nicotine is good for you, but at least it is not the worst ingredient in traditional smoking.
Would you like to know where I got my very complete starter kit "new-v2-cigs-ultimate-starter-kit" and perhaps take a closer look?
Click the logo below where, in the section "starter kits" you can also find smaller starter kits and compare them all on the site.
I hereby wish you success in your decision and who knows, you soon may be a quitter to... I think you can... simply because I can.
Ps: The batteries come in different colours but avoid the blue coated ones as they appear to loose their blue colour pretty soon.